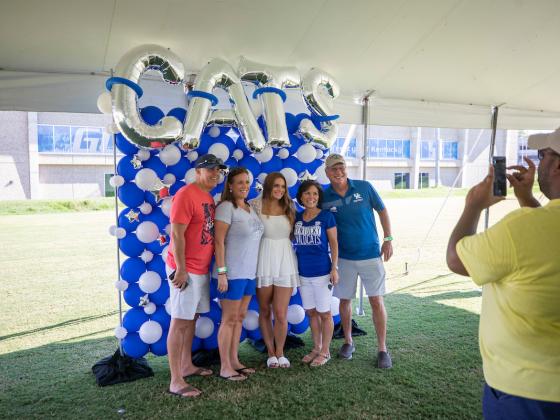 Become a UK Parent and Family Association Member
The UK Parent and Family Association is going through a transition to make life easier for UK parents and families! In the past, families needed to opt into receiving communication from us, which was just another item on a lengthy pre-college to-do list. Starting in fall 2022, the Parent and Family Association will use the parent/family contact information that students provided on their admissions application to automatically register new families to receive the Cat Chat email newsletter. Cat Chat is sent two to three times a month during the school year and once a month over the summer; families report it is the most popular service the Parent and Family Association offers. Knowing that we all get a lot of email, families are welcome to unsubscribe at any time. If additional family members want to receive Cat Chat and their contact information was not provided on the admissions application, they can join the Parent and Family Association at www.uky.edu/joinukpfa. We define family very broadly and welcome all supportive adults in our students' lives to be part of the Wildcat family! 
If you have any questions, please contact Nicki or Nancy, the Parent and Family Association team, at parents@uky.edu.  
2+
Monthly Cat Chat Email Newsletters
2+
Parent and Family Association Staff Members Ready to Help
Join the UK Parent Advisory Council
Parents and family members of current University of Kentucky undergraduate students who are seeking an active role in the Parent and Family Association can apply to serve on the Parent Advisory Council. This council of approximately 30 members recommends programming activities for the Parent and Family Association, gives feedback about university programs, discusses issues of concern to family members, participates in campus outreach and events, and assists with the recruitment of prospective council members. 
Volunteer for Big Blue Move-in
Parent and family volunteers are needed to give students and families a warm welcome and direct them through the move-in experience. Contact UK Housing for more information. 
Volunteer for Family Weekend
If you are looking for a fun way to get more involved, meet students and their families, and help make Family Weekend special for all Wildcats, consider serving as a Family Weekend volunteer! More information about volunteering for Family Weekend will be available in the fall.
Give Us Your Feedback
Throughout the year, the Parent and Family Association will ask members to complete feedback surveys and polls to help us know how to better serve your needs. Surveys and polls will be available through Cat Chat emails and the University of Kentucky Parent and Family Association Facebook, Twitter, and Instagram pages.
Here are a few quotes from parents and family members taken from the anonymous 2021-2022 Parent and Family Association survey:
"I love this Association. We have had 2 graduates in the past 3 years and our current student will be a sophomore. We love this University. I appreciate all that we have learned through this group." 
"The Association, whether present at orientation or accessible through social media, has been an invaluable resource to us during our first year!!! I read so many messages on the UK Wildcat Families Facebook group from outgoing parents thanking them and I will be one of them in a few years. It is a constant reliable resource!!!!" 
"The newsletters are very informative and I have forwarded information to my daughter from them many times."