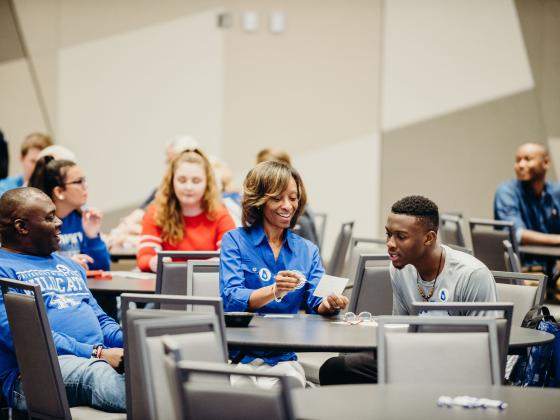 As you know, people can differ in their approaches to communication and disclosure. Some students are a wealth of information, happy to share their feelings and the comings and goings of their days. Others are more hesitant and may require additional probing to gain insight into how they are doing. "How was your day?" may result in a ten-minute accounting of the day's activities, or it may elicit a conversation-stopping "fine." 
Open-ended questions tent to lend themselves better to lengthier conversations, and with that in mind, the questions on this Conversation Calendar may be appropriate to ask at various times through the coming year. The answers to these questions will help you gauge how your student is doing and whether they might benefit from campus resources. 
First-Year Student Conversation Calendar
Second-Year Student Conversation Calendar
August
 What can your student do to have a successful year? 
Get involved and take on leadership roles.  First-year students may have spent time trying out a lot of different organizations and activities. Sophomore year is a good time to make a deeper commitment. Run for an office in a student organization. Attend most of an organization's activities. Help plan those activities. Get to know the other people in the organization. Look into organizations that match major/career goals. 

Touch base with the Counseling Center and the Career Center. Both can help students make decisions about majors and careers, and they also provide a number of other workshops. The Counseling Center provides programs on test anxiety, relaxation, and stress management, as well as individual and group therapy. Therapy can help students develop more self-confidence and stronger interpersonal skills. The Career Center can also help with career exploration and planning for the future, as well as helping students develop skills in interviewing, creating resumes, and writing cover letters. 

Find out about other campus resources. 
Make a plan for this year, next year, and the year after that. Consider educational options such as Education Abroad or National Student Exchange. Speak with an advisor about class schedules and other educational opportunities. Seek out a faculty mentor. Work in a lab on campus or seek out research opportunities with faculty. 

Start thinking about co-ops, internships, shadowing experiences and other activities that are good for the resume but can also further solidify thinking about career directions. It may be helpful, too, for those considering professional or graduate school to begin looking at application processes, timelines, requirements, and suggested preparations for entrance exams. Sophomore year may seem early but knowing what to expect can help avoid surprises later in the junior or senior year as well as increase motivation for academic performance while there is still time to make a difference. 

Meet with an integrated success coach. Meeting with a coach can give your student the confidence to begin preparing for the next steps, whether it is managing time, studying for midterm exams, recovering academically, getting involved on campus, or prepping for graduate entrance exams such as the GRE or MCAT.  
Adapted from "Help Your Student Avoid a Sophomore Slump" by Dr. Tina Bryant, Dr. Jamie Hopkins, and Dr. Felito Aldarondo, psychologists at the UK Counseling Center 
How can you help? 
"Do you like your class schedule?" 
Many students will alter their schedule during the add/drop period. Some off-campus students will find themselves a little less motivated to get out of bed for class if they know a long walk, bus ride, or hunt for parking is ahead of them. Make sure they are attending class regularly, no matter what they say their professors' attendance policies are. 
"What are your professors' names?" 
If you student can't answer this question, it may signal lack of academic engagement, including frequently skipping classes. 
"How has sophomore year differed from freshman year so far?" 
College sophomores can be like middle children in families: not the youngest kids who require so much attention and nurturing (and are really cute, to boot!) and not the oldest children who are constantly moving into new territory (and get to be the first to do everything). For this reason, sophomores may feel lost in the shuffle. 
"Would you like us to come for Family Weekend?" 
The answer is likely to be a resounding "yes," but it never hurts to ask. 
September
Your second-year student may be experiencing: 
Decreased excitement about college because it is less new. This year may feel more routine, which can be a let-down from the something-new-every-day aspect of their first year. 
More awareness of what they don't like about college. As they get to know campus and the initial excitement wears off, sophomores may be more tuned in to things they don't like. 
Increased responsibility and expectations from professors and college staff members. During the first year, many staff and faculty are understanding of the difficulty adjusting to college. By their second year, students are expected to be fully adjusted and knowledgeable about how things work on campus and there may be fewer events and services targeted at helping them navigate those adjustments. 
Harder classes. Sophomores will typically be moving past basic introductory classes into more challenging ones. They may also be feeling pressure to choose a major if they haven't already. And if they will applying to competitive majors, sophomores can feel a lot of pressure to keep their grades high. On the other hand, some sophomores may feel that they don't have to try as hard as they did their first year or that grades won't matter until they are juniors or seniors. If students are contemplating graduate school, they may think the first two years of grades are not as important as those in their core or major classes. 
Social life changes. This could include increased focus on hanging out with friends or leaving less time for academics. It may also include difficulty seeing friends who have moved off campus or difficulty staying connected to campus if your student has moved out of the residence halls. And students who didn't make many friends last year may find it more difficult to make friends this year now that it seems most people have formed their social groups. 
How can you help? 
"What is it like living in your apartment/house/residence hall?" 
Sophomores may be experiencing their first time living off campus. While roommate frustrations are common no matter what the living situation, students in apartment or houses with multiple roommates often find themselves squabbling over noise levels, dirty dishes, and more. Look for clues that your student is settling in and staying connected to campus by attending classes, participating in student organizations, and going to events. 
"What is the social scene like?" 
While you want to hear that your student is making new friends and maintaining existing relationships, you will also want to make sure your students is not neglecting their academic responsibilities while pursuing an active social life. Look for clues that your student is making good decisions regarding alcohol (abstinence or low-risk drinking). 
October
Your second-year student may be experiencing: 
Academic stress as midterm approaches 
Reluctance to visit instructors or advisors 
How can you help? 
"Have you visited your professors during office hours?" 
Too few students take advantage of this time to get to know professors and seek assistance if needed. As your student gets into major-specific classes, forming relationships with professors is so important. Professors can connect students with special academic opportunities like undergraduate research, can serve as references, and can offer guidance on future employment and/or graduate school.
"Are you ready for midterm exams?" 
This is an important time for students to get feedback on their academic performance. Students with strong midterm grades will know they need to keep doing what they have been doing; students who are struggling need to come up with a plan to improve their situation. If improvement does not seem possible, they may need to consider dropping a class prior to  the final deadline of the semester. Encourage them to speak to an advisor before doing so. 
"Have you made plans for your spring semester schedule yet?" 
Students should have some ideas in place before meeting with advisors; myUK GPS has some useful course planning features that your student can use in preparation for their advising meeting. 
"Where do you want to live next fall?" 
The University of Kentucky strongly recommends that all first and second-year students live on campus. Our Lexington community tells us that the best tenants for rental are those who have lived on campus at least their first two years. UK Housing has several options for upper-level and graduate students, including University Flats. 
November
Your second-year student may be experiencing: 
Attempts to balance academic and social obligations 

Academic and social stress 

Time management issues 
How can you help? 
"What campus activities are you participating in?" 
If your student hasn't connected to any campus organizations or is looking for new opportunities, suggest contacting the Office of Student Activities and Organizations or visiting BBNvolved. If your student has already declared a major, encourage them to look for major-specific organizations. 
"What are your favorite stress-relieving activities?" 
Wellness is important, especially during stressful times of the year. Again, look for clues about responsible choices with alcohol and drugs. 
"What does a typical day look like for you?" 
Hopefully your student is continuing to strive for balance between academics and a social life. 
December
Your second-year student may be experiencing: 
Stress of final exams 

Anxiety about returning home 

Planning for spring semester 
How can you help? 
"Do you feel prepared for finals?" 
If the answer is no, there is still time to seek help during professors' office hours or from The Study's peer tutors. 
"How much sleep are you getting?" 
An adequate amount of sleep is especially important before and during final exams.
"What will you do differently during the spring semester based on your experience this fall?" 
Encourage your student to reflect on the success and challenges of the first semester and create a plan of action for the spring. A success coach can assist with that process if your student struggles to come up with and follow through on a plan on their own. 
"What are your plans for winter break?" 
Returning home can be a time of transition for both student and family. Communicate expectations well in advance. 
January
Your second-year student may be experiencing: 
Anxiety about future living arrangements 

Uncertainty in their major 
How can you help? 
"How is your relationship with your roommate(s)?" 
Hopefully all is well, but if problems exist, coach your student through possible solutions. Off-Campus Student Services has a number of resources to help if your student is living off campus, and Residence Life is a support system for our on-campus residents. 
"Tell me about the classes you are taking in your major. OR Do you feel ready to declare a major this semester?" 
It is not uncommon for students to change majors or doubt if they have chosen the right path. If this is the case, encourage your student to reach out to professors and advisors for assistance. UK's Counseling Center and Career Center can also help students who are uncertain if they are in the right major and those who have no ideas what they want to major in. 
UK's online Academic Exploration Tool allows students to search and explore the many majors offered here. Students must declare a major by the time they have accumulated 60 earned credit hours. 
"What academic resources have you used since coming to UK?" 
Students should be encouraged to go to office hours and use The Study, Writing Center, and available tutoring resources. Often students don't seek help until problems have already developed. These resources are most helpful if used early in the semester. 
February
Your second-year student may be experiencing: 
Thinking about what they would like to do during breaks 
Asking for recommendations for summer jobs or internships 
How can you help? 
"What are your plans for Spring Break?" 
Make sure your student's plans are well thought out and in line with your family's expectations. 
"Are there any faculty and staff members who you have gotten to know well?" 
Relationships with faculty and staff are important in a student's overall satisfaction with college. Your student may need a good letter of recommendation from a professor or advisor at some point in the future. 
March
Your second-year student may be experiencing: 
Focus on Spring Break and warmer weather 

Registering for classes 
How can you help? 
"What are your plans for this summer?" 
Options might include summer classes, internships, job shadowing, or paid employment. 
"What fall semester classes do you plan to take?" 
It is time to meet with advisors and register for fall semester classes; myUK GPS has some useful course planning features that your student can use in preparation for their advising meeting. 
April-July
Your second-year student may be experiencing: 
Stress and fatigue due to academic and social obligations 
Academic issues due to procrastination 
How can you help? 
"Are you ready for final exams?" 
Motivation typically suffers a little after Spring Break, but it is important to stay focused on a positive end to the semester. 
"Based on the past year, what will you do differently in the fall?" 
It is never too early to set goals for the fall. 
"Do you know how proud we are of you?" 
Everyone likes to be removed that their loved ones support them no matter what.